Which MME Program is the Best Fit for Me?
WELCOME, WARRIOR.
We're pumped that you're here on the path to success with us.
If you're new to the MME fam, or looking for some fresh strategies to create greatness in your life; we've got the roadmap and tools to help you get there. Whether it's a push in the workout, mental strength or nutrition stakes, we're here to help you achieve your goals with the hardest-hitting programs ever seen outside the military...
Get ready to overhaul your mindset, muscles and motivation! We've partnered with America's elite military trainers to devise our life-changing MME program collection. Each one delivers insane results, and unleashes a beast of determination, focus and strength within you. But how do you choose the right path for your unique journey?
Here's how to begin YOUR warrior path with Military Mental Endurance: 
STEP 1:
Determine Your Goals
First and foremost, let's define where you want to go. Having a clear vision of your goals is the first step in navigating your path to success.
Ask yourself, do you want to:
Bulk up, trim down & get ripped?
Supercharge functional strength & endurance?
Prioritize mental toughness & adaptability?
Each MME program has a different focus, so it's good to know what your biggest goals are before you commit to your ideal match. This will help you choose the best program so you can smash your primary objectives fast. Here's a couple of examples of our most popular programs if you're looking to:
Our 180-Day Bodyweight Beast program is a prime example for chiseling your most ripped physique ever. This power-packed, high intensity workout program gives you daily challenges that get your muscles pumping, firing and bulking up fast.
The 12 Week Tactical Athlete program levels up your power, strength, flexibility and stamina with progressive overload & conditioning drills. Developed with Special Forces operators, this intensive military training program builds your body into a lean, mean fighting machine.
Our Special Forces Mental Strength Hacks program powerfully reshapes the way you think and face challenges. This mindset masterclass improves your mental endurance, giving you the psychological tools you need to stick to your goals and achieve your dreams from the inside out.
STEP 2:
How Fast Do You Need Results?
Each MME program is also based on a set time frame. Do you need results fast, or are you looking for consistent progress that goes the distance, with measurable gains that last?
For noticeable gains in record time, we've got 2 stellar programs guaranteed to get you flexing in the mirror fast: Our 6 Week Bodyweight Bootcamp and Warrior Shred & Run programs get you there on the fast-track with intense, focused shred sessions.
For measurable improvement that builds consistently, the Generation Elite program re-engineers your physiology with military precision. Over the course of an entire year, you'll get all the tools and motivation you need to establish a fitness routine with endurance that lasts.
Never tried an MME program before? Our insanely popular Warrior Bundle™ covers all the bases and lets you take your pick of what works for YOU.  This limited-time deal scores you lifetime access to EVERY PROGRAM in our comprehensive vault, PLUS every future program we bring out! With a current combined value of over $1000+ and counting, you won't want to miss this.
STEP 3:
Get Your Head in the Game
Last, consider whether you want to focus on mental or physical gains first. For a lot of warriors, it's better to commit to a mindset program before moving on to the gut-busting physical challenges we have on offer later.
Why?... Because physical fitness starts in the mind. A strong mental foundation, unstoppable attitude and unshakeable resolve gives you the chops you need to stand up to anything tough coming at you in life.
Start with a mental challenge, build up your brain endurance, then get to work with an MME physical program to make your body match the mind:
To armor-plate your state of mind and kickstart your journey to success, you can't go past the 28 Day Mental Strength Trial Challenges program. It consists of small mental work-in challenges that give you achievable quick wins, resulting in your max potential to change your mental outlook for the better.
Whatever your primary focus, you'll find all the tools you need to get where you're going at MME. Our comprehensive catalog is packed with programs to improve your mindset, level up your home workouts and crush insane levels of gym performance. We've even got resources to square up your ideal nutrition plan, and some intelligent tech to chart your path to success! 
We're in the business of helping fellow warriors achieve the body, life and reality you deserve. With this in mind, we've harnessed elite techniques taught in the military to help you smash your goals, become the best version of yourself, and see results in every area of your life.
Ready to get started? You're in the right place. Check out our entire program vault & pick your path to success right here... 
Thanks for reading, 
Fefe | MME Workout Contributor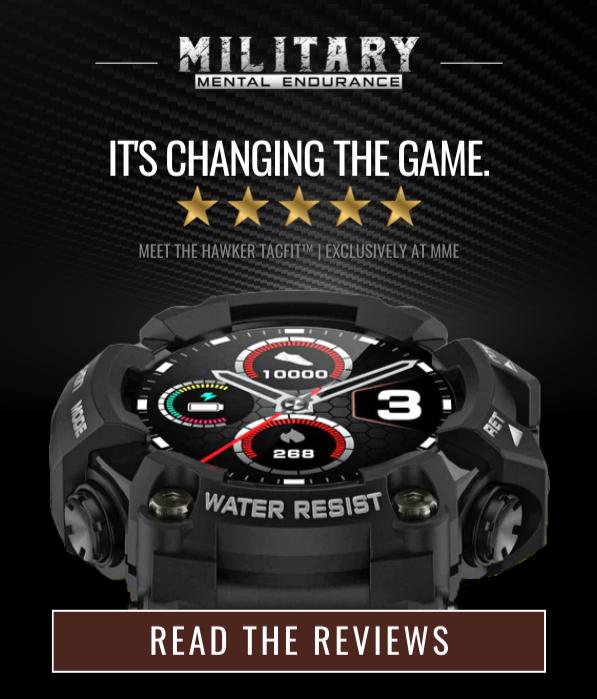 Grabbed Your New Favorite SmartWatch Yet?
Meet Hawker TacFit™- the Sport Watch packed with features that destroy the competition in every category. This absolute beast of a smartwatch has knocked our socks off from the moment we put them on - and we're proud to announce that starting NOW, you can grab one for yourself right here at Military Mental Endurance.
Level up your life with the Hawker TacFit™ today - but hurry, these hot sellers won't stick around long.
Intuitive Features:
Heart Rate & Blood Pressure monitor • Smartphone integrations • Calorie, Distance & Step tracker • Water Resistant down to 50ft • Instant call notifications • Weather tracker • 3 hard-hitting color options • & more…
Get Yours Here