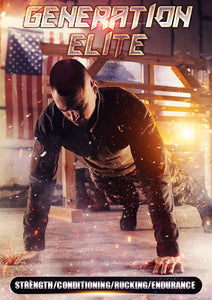 The Breakthrough Military Fitness Program That'll Change The Way You LOOK, FEEL, and THINK!
Generation Elite™ is a 12-month fitness program that is broken-down into easily accomplishable workout modules.
This is the most comprehensive fitness program that you'll find on the market - However, you won't have to wait for 12 months to see the results!
This program is the perfect standalone program, or for more advanced athletes as an add-on!
By the end of the year, you will have achieved elite-level fitness that transforms the way you look, feel, and think! 
HOW IT WORKS
The 12 month comprehensive fitness program is broken down into 4 Sections:
Functional Strength
Cardiovascular Improvement

Strength & Conditioning

Combat Fitness & Readiness 
This program is designed around outdoor workout routines like rucking, running, strength & conditioning & functional workouts.
REQUIRED EQUIPMENT
You can use an open field, a loaded backpack, stationary bike, and barbell with weights to nail the routine.
ABOUT THE COACH
This program was developed by our team member Ryan, who spent more than 7 years in an elite special forces unit. Following his military service, he has acquired several personal training certifications and now spends his time coaching remotely and creating strength and conditioning programs.