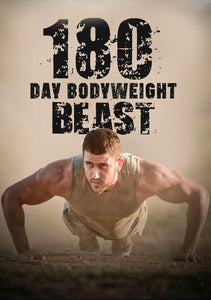 The SIMPLEST & MOST EFFECTIVE Bodyweight Training Program EVER!
Used by some of the deadliest men on the planet, this secret training method will help you bounce back from injury, fatigue, and burnout to give you a physical advantage over everyone else… without killing yourself in the gym!
Regardless of your training experience, we are confident that this six-month bodyweight training program laid out in this course will be the most intense, results producing, and gut busting training experience of your life to date.
This "180 Day Bodyweight Beast" is the most simple, but effective program we have. 180 days of pre-programmed workouts using our 5 phase method using nothing but your own bodyweight. 
What's Included:
Power-packed, high intensity workout routines that turns you into a vascular and shredded "hard-body"
Daily challenges that leave your muscles insanely pumping, firing, and shaping!
Simple tricks and hacks that take the results to a whole new level
Reliable advice to load your body with functional strength
This program is ideal for:
Those of any fitness levels from beginning to advanced
Those who want great results but have no access to a gym
Those looking to boost their strength in body-weight exercise
The only weight you need is your own, what are you waiting for?
ABOUT THE COACH
This program was developed by our team member Ryan, who spent more than 7 years in an elite special forces unit. Following his military service, he has acquired several personal training certifications and now spends his time coaching remotely and creating strength and conditioning programs.