9 Mysterious Things That May Be Giving You Man Boobs
While not exactly a topic one might feel comfortable tossing around in the gym lockers, gynecomastia, or enlarged breasts in men, is something at least 30 percent of men deal with at some point during their lifetime.
How is this possible? We've done the research so you don't have to. Here's the top 9 sneaky causes behind increasing bust lines in men:
More specifically, the imbalance between the sex hormones testosterone and estrogen. Like women, men naturally produce both hormones, however, higher levels of testosterone works to suppress the growth of breast tissue in men. While causes of this imbalance can vary anywhere between chronic stress to hormonal replacement therapy, sometimes the cause of this imbalance is unknown.
8. Steroids and other Substances
If you're one to keep an ear out for news in the fitness community, you've probably seen a headline or two on the risk factors of using illegal performance-enhancing drugs, particularly anabolic steroids, which are essentially synthetic versions of testosterone. This can wreak all sorts of havoc in your hormonal balance, as can abusing other substances like amphetamines, marijuana, heroin, methadone, and even alcohol. 
Looking at you, calorie-counters. Maintaining adequate nutrition is paramount to leading a healthy lifestyle and achieving the physique you're after, with the development of the dreaded man-boobs just another potential unwanted outcome of nutrition deficit. This is due to the drop of testosterone levels while estrogen levels remain the same, causing a hormonal imbalance.
As inconspicuous as they may seem, harmless-sounding 'all-natural' herbal products could actually be the sneaky culprit behind your increasing bust line. More specifically, lavender oil has been linked to gynecomastia, but other essential oils like tea tree are under speculation as well.
5. Hair Loss Pills and other Medications
Anyone who's ever heard a pharmaceutical commercial is brutally aware that medications often come with a slew of unwanted side-effects (sometimes more drastic than the conditions which they're meant to treat!). Unfortunately, gynecomastia is one that pops up among a lot of medications, including finasteride (a common hair loss treatment), other androgens and anti-androgens, heart and ulcer medications, AIDs medications, amphetamines for ADHD and more.
4. Liver Disease and other Health Conditions
Serious diseases are known to knock one's hormone balance out of whack, due to the body's biological mechanism of decreasing reproductive processes during times of illness. Particularly, those dealing with the liver (such as cirrhosis) and kidneys are often to blame for these hormonal hindrances.
Not to be alarmist, but it would be irresponsible not to include this possible underlying 'bump' in the road of testosterone production. We're talking about tumors: testicular tumors, pituitary tumors and even lung tumors could be at fault. In addition to affecting testosterone and estrogen levels, they can produce a hormone called HCG. This is also a hormone sometimes injected for the purpose of increasing fertility.
Sure, increased fat overall means increased fat in the breast region. Makes sense, right? Well, there's actually more to it than that. Obesity tends to skyrocket your levels of leptin, a hormone which plays a role in reproduction. Too much of it and your brain can build a resistance, ultimately tricking the body into going into energy conservation mode, decreasing levels of testosterone as well as storing more fat tissue. Double-whammy. 
Finally, like many things in life, the onset of your, ahem, set, might just be an inevitable in the nature of the beast that is getting older. If this is your case, you're certainly not alone: Studies show that as many as two-thirds of men older than 50 will experience gynecomastia to some degree.
All in all, there's no need to panic. There are plenty of reasonable and easy to mitigate causes for what you're experiencing, but it is important you identify the cause and don't brush it under the rug.
Hit up your GP pronto (recommended no later than six months of noticing symptoms) so you can investigate any underlying conditions that need to be treated—especially if there's tenderness and other symptoms present.

Maggie Johnson | MME Lifestyle Contributor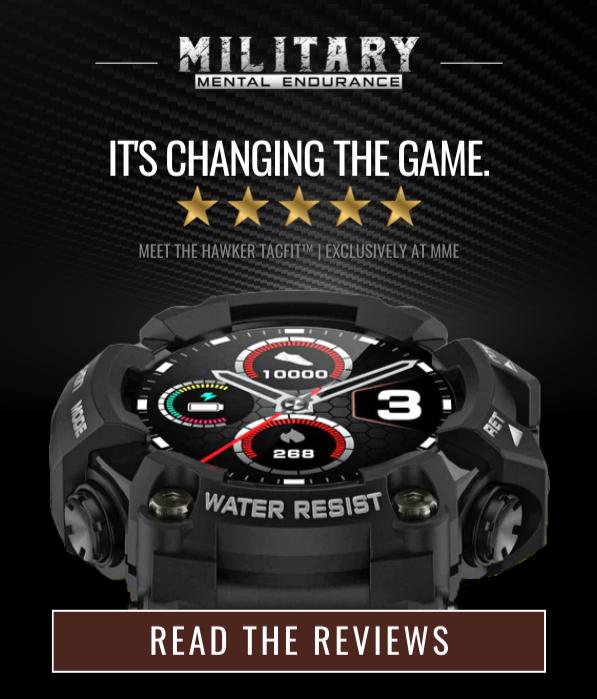 60% OFF Launch Special Ends Soon
Meet Hawker TacFit™- the Sport Watch packed with features that destroy the competition in every category.
This absolute beast of a smartwatch has knocked our socks off from the moment we put them on - and we're proud to announce that starting NOW, you can grab one for yourself right here at Military Mental Endurance.

Intuitive Features:
Heart Rate & Blood Pressure monitor • Smartphone integrations • Calorie, Distance & Step tracker • Water Resistant down to 50ft • Instant call notifications • Weather tracker • 3 hard-hitting color options • & more…

Level up your life with the Hawker TacFit™ today - but hurry, these hot sellers won't stick around long

GET YOURS HERE