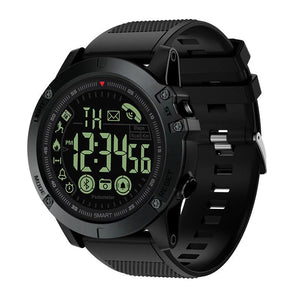 BUILT TO WITHSTAND THE TOUGHEST CONDITIONS
We'll Pay For The Shipping No Matter Where You Are Located.

Designed by a team of ex-military engineers who love both tech and the outdoors. Fed up with forever spending money repairing their fragile smartwatches, they decided to design the perfect invincible smartwatch… and they nailed it!
BENEFITS
The Warrior Tactical Smartwatch is

 

guaranteed to resist any situation, whether it is water or dust.
It is also extremely durable thanks to its 4th generation

 

Gorilla Glass and carbon fiber construction.
It's

 

stylish,

 

easy-to-use,

 

and most importantly super durable

 

and

 

tough! And if that's not enough, it boasts one thing that no other smartwatch can offer – a up to 33-month battery lifetime.
FEATURES:
Clear and sharp digital display.
Smartphone camera control.
Tracks distance covered and steps taken.
Calorie counter.
Instant call notifications.
Waterproof up to 50 meters.
The Warrior Tactical Smartwatch destroys the competition in every category.
ORDER TODAY & RECEIVE FREE SHIPPING!