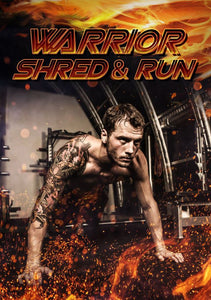 Finally... A complete step-by-step blueprint for melting away pounds of stubborn body fat and building a lean and muscular body!
Yes, you can still build the muscle and strength that you want, even if you don't have access to a gym or equipment. Warrior Shred & Run Training Program will transform you into a LEAN MACHINE using our proven workout routine.
This plan is built around a combination of running and bodyweight. There are no weights or equipment involved. It's entirely centered on running and using your own bodyweight to burn calories and get "Shredded".
This program will push you beyond your limits with easy-to-learn, yet intense workout practices all in the span of 12 weeks! 
WHY IS THIS PROGRAM UNIQUE?
A workout that delivers results. This time-honored program has reshaped not just bodies but also the entire lives! At the end of the program, you'll have enhanced strength, endurance, and stamina like never before! 
Everything is laid out for you. 

All the workout routines have been listed in the correct time frames and optimized to deliver significant results. It's the workout plan that shows a remarkable difference! 

Suitable for Everyone. 

Whether you're a beginner that wants to change for the better or an advanced fitness enthusiast that does not have the right equipment, this program

 shreds your body and delivers you the quickest results you never thought possible! 

ZERO EQUIPMENT REQUIRED
THIS PROGRAM IS IDEAL FOR
Don't want to lift excruciatingly heavy weights in the gym

Want to reduce the number on the scale

Want to go lean and build muscle
What are you waiting for? Get the program that crumbles your ugly past and turns you into a WARRIOR! 
ABOUT THE COACH
This program was developed by our team member Ryan, who spent more than 7 years in an elite special forces unit. Following his military service, he has acquired several personal training certifications and now spends his time coaching remotely and creating strength and conditioning programs.