The 3 Most Badass SEALs of All Time
The Navy SEALs have a hard-won reputation as badass operators far above even regular US soldiers. But even among the SEALs, certain operatives are especially tough or skilled.
Let's take a look at the three most badass Navy SEALS to ever walk the earth:
- Chris Kyle 

-
BUD/S Class: 233

Who can forget the name of Chris Kyle, arguably the most famous Navy SEAL of all time?
He spent four tours in Iraq, and he has an official count of 150 sniper kills obtained during his tours of duty. Kyle himself speculated the number is much closer to 200 or more, however. Talk about an absolute weapon of a human. 

He was such an effective sniper that Iraqi militants eventually placed a bounty on his head; this went up to $80,000! 
Kyle was certainly one of the best snipers the U.S. Navy has ever put into action, and his defensive actions undoubtedly saved the lives of many of his fellow servicemen and women over the years. Although Kyle was tragically killed after returning home, his legacy lives on in America's hearts forever.
-David Goggins-
BUD/S Class: 235
David Goggins is another very famous and undoubtedly badass Navy SEAL, especially because he has one of the most inspirational stories we can all relate to.
Goggins began his career in the Air Force, but eventually suffered from obesity and depression. When he reached 300 pounds, he was informed that he would never be able to become a Navy SEAL due to the extreme physical demands of the job. As such, Goggins got off his butt.
From that point on, he'd resolved to work out and get into shape. And boy, did he! Since, he's gone on to hold the one-time world record for the most pull-ups done in a 24 hour period. 
Even better, he now regularly runs and wins ultra-marathons to raise money for different foundations, one of which is the Special Operations Warrior Foundation to support the families and children of fallen special operations soldiers. Nicknamed the "Toughest Man in the World", Goggins shows what Navy SEALs can really do.

-Marcus Luttrell-
BUD/S Class: 226/228

Marcus Luttrell may not be quite as famous as the other two SEALs on this list, but he deserves equal recognition as a true badass. That's because he was the sole survivor of the infamous mission codenamed Operation Red Wings.
Here's how it shook down:
Luttrell and his comrades were assigned to kill or capture a high-value target against the Taliban. However, Luttrell and his team were spotted by herdsmen, who alerted Taliban fighters. Luttrell and the SEALs were not permitted to engage the herdsmen, as they were unarmed.

Unfortunately, a battle quickly broke out between the SEALs and the Taliban insurgents. Ultimately, three out of the four on the team died after enduring hours of rocket and machine gun fire. Luttrell himself was knocked unconscious and suffered multiple broken bones.

However, he was found by an Afghan local, who nursed him back to health and reported his position to nearby US military forces. Luttrell survived, in the end.  If that doesn't speak to his endurance and strength of character, nothing else will. 

All of these 3 absolute badasses encompass all the character traits we aspire to be as superlative human beings. 
We know that we'll be drawing inspiration from their incredible feats the next time we're feeling a bit lackluster... and we're sure you'll be feeling motivated by their achievements too. 
Stay strong, warrior.  
Justin | Author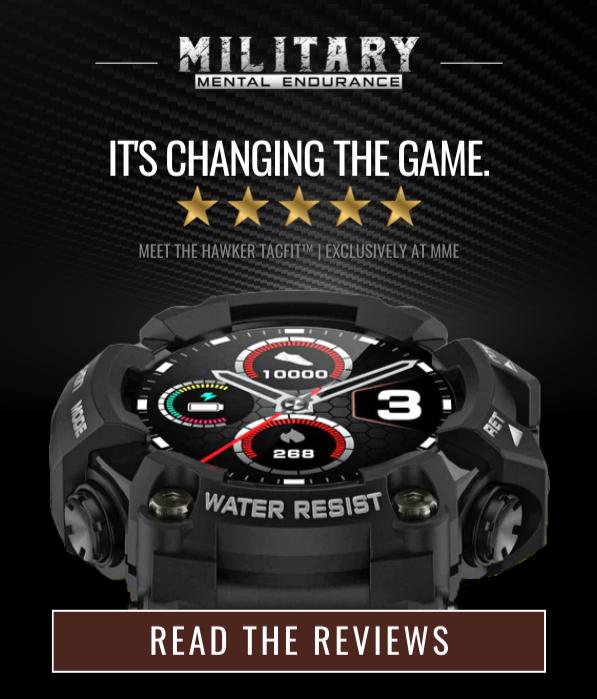 60% OFF Launch Special Ends Soon
Meet Hawker TacFit™- the Sport Watch packed with features that destroy the competition in every category.
This absolute beast of a smartwatch has knocked our socks off from the moment we put them on - and we're proud to announce that starting NOW, you can grab one for yourself right here at Military Mental Endurance.
Intuitive Features:
Heart Rate & Blood Pressure monitor • Smartphone integrations • Calorie, Distance & Step tracker • Water Resistant down to 50ft • Instant call notifications • Weather tracker • 3 hard-hitting color options • & more…
Level up your life with the Hawker TacFit™ today - but hurry, these hot sellers won't stick around long.
Get Yours Here