6 Hacks to Get Your Ass into Gear if You're Just Not Feeling It
Motivation slumps killing your workout momentum?
We get it, an evening of crashing and turning on your favorite show is calling your name, and seemingly nothing can motivate you to go to the gym. And sometimes a lazy weekend cooling your jets is just what the doctor ordered after a hectic work week.
While it's important to cash in on plenty of rest days during your regular workout schedule, the pattern of slacking off can take hold if you're not careful. While we thoroughly endorse time to rest and repair - too much is a slippery slope and can cause you to lose your hard-won momentum you've been working so hard on building.

If you've ruled out any physical ailments that might be zapping your energy but you're still having trouble getting the motivation to workout, you might just need a nudge in the right direction.

Pushing past those mental barriers and pulling through on your commitment can be tough. Not all hope is lost, though - it just takes a bit of strategic thinking!

Lacking the drive to keep your workout momentum going? Try out these 6 strategies to combat the motivation slump and get your head back in the game…

Waking up on Monday all bright-eyed and bushy-tailed and ready to tackle the week ahead is all well and good, until it's Thursday (already?!) and the realization hits you that you haven't squeezed in a workout yet.
Do yourself a favor and schedule your exercise days in advance to give yourself something to grab onto and stick with.

Everyone has those days where you can't stop hitting snooze, or the minutes leading to your lunch break seem to drag on forever. By the end of the day, going to the gym feels more like a chore after a long day - but don't give up on yourself just yet.
Allow yourself the leniency to cut your workout short, even if it's just 15 minutes on the treadmill or a few sets on the weights. Anything to get yourself out there and moving is better than nothing. Once you're dressed and in workout mode, you might surprise yourself with what energy you have in store after all (but it's okay if not! ;)

Who said the jams had to wait until you hit the weights? Blast those tunes during your morning routine or on your afternoon commute - whenever you need the extra shot of motivation to make that trek to the gym.
Keep your playlist updated or explore Spotify's best workout playlists to keep the songs fresh and exciting.

No one can argue that sweating it out at the gym is a perfect opportunity to repurpose those old hole-ridden fundraiser tees and branded giveaway sweatbands. Of course, we love a good reduce, reuse, recycle story.
That doesn't mean you shouldn't treat yo'self to some cool new gear, though! There's just something about a wardrobe refresh that gives you that confidence boost you need to keep on keepin' on.

2. Eliminate Friction Points with a Structured Program
Knowing exactly when and what type of exercise you'll be doing, as well as being able to just show up and let the instructions guide you through your sets can be enormously helpful in removing the mental block keeping you from working out.
Blast through your workout monotony with an easy-to-follow program specially designed for the Gym, or go freestyle with a zero-equipment Bodyweight workout you can do anywhere. (Sometimes a change of scenery like working out at the beach, in the park, or in your friend's garage can work wonders!)

Sure, every fitness enthusiast can attest to the fantastic feeling you get from working out. Your muscles are sore (in a good way) and you feel a sense of accomplishment after a solid session at the gym. If you're lucky, however, you might have experienced what's colloquially known as a "runner's high".
Studies have found that aerobic exercise induces feelings of euphoria and pain relief thanks to the sweet release of endorphins and a molecule called endocannabinoids, which is the same one triggered by - you guessed it - cannabis. So, yes, you can quite literally get high from exercise.

Shake off the low-motivation loop and tell your couch you'll catch up later with these easy hacks that kick up your dopamine release and increase your drive to grind. 
Stay strong warrior, you've got this.   
Maggie Johnson | MME Lifestyle Contributor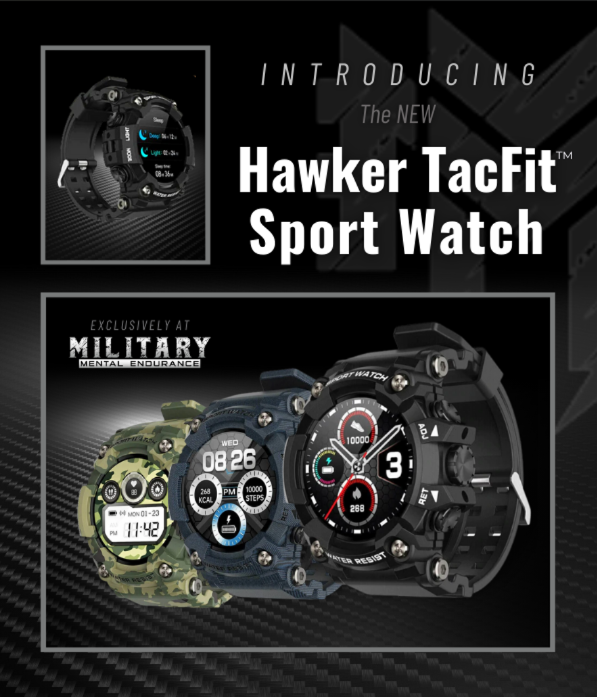 60% OFF Launch Special ENDS SOON
Meet Hawker TacFit™- the Sport Watch packed with features that destroy the competition in every category.
This absolute beast of a smartwatch has knocked our socks off from the moment we put them on - and we're proud to announce that starting NOW, you can grab one for yourself right here at Military Mental Endurance.
Intuitive Features: 
 Heart Rate & Blood Pressure monitor • Smartphone integrations • Calorie, Distance & Step tracker • Water Resistant down to 50ft • Instant call notifications • Weather tracker • 3 hard-hitting color options • & more…
Level up your life with the Hawker TacFit™ today - but hurry, these hot sellers won't stick around long.
Get Yours Here